Superfood- Witloof Bar - Botanique, Bruxelles,le 10 février 2015
Reports
About:
Superfood- Witloof Bar - Botanique, Bruxelles,le 10 février 2015
Your Reporter on the Spot:
Michel Preumont texte - JP Daniels photos
Tandis que Spain faisait le plein à la Rotonde, le Witloof accueillait la nouvelle sensation Britpop , le groupe de Birmingham, that  is gaining a reputation for its indie music explosion,  Superfood!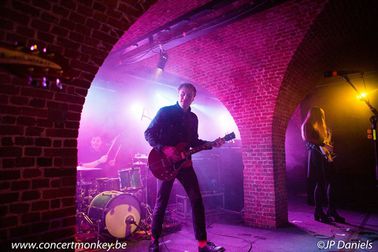 Band members: Dom Ganderton (vocals/guitar), Ryan Malcom (guitar), Emily Baker (bass), Carl Griffin (drums).
Un album, 'Don't say that'.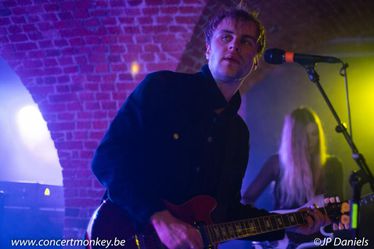 En piste à 20:20' devant un public dont la tranche d'âge est plus proche de 20 que de celui de la prépension.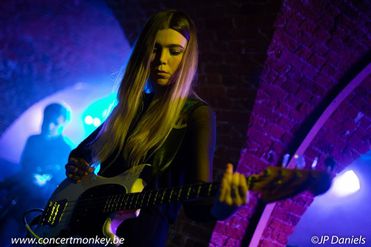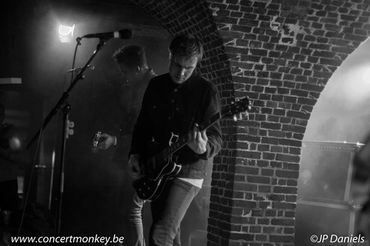 'You can believe', pas croyable, Dom doit être le demi-frère de Liam Gallagher, le morceau sonne comme du Oasis en 1995.
Un départ sur les chapeaux de roue, guitares fébriles, drumming rigoureux, des choeurs ( les garçons) catchy, Emily aurait pu ajouter une touche féminine à l'ensemble, pas de bol elle ne chante pas!
La suivante 'Bubbles' démarre au ralenti, 'interlude' signale le parchemin traînant au sol, avant de pétiller comme un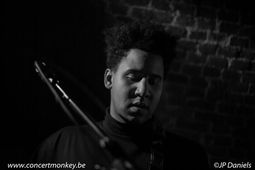 Piper-Heidsieck bien frappé.
Quoi, Valéry?
Les liaisons commencent dans le champagne et finissent dans la camomille...
Ok, gars, tu nous parais solidement infusé ce soir.
A tous les noms cités chez Cameron: Blur, Supergrass, Kaiser Chiefs etc... on aimerait ajouter les Stone Roses.
L'énergique Dom a déjà entamé le n°3:
I can never sleep, I can never, I can never sleep
I can never, I can never sleep without the TV on, yeah ...
L'agressif 'TV' est sans doute le morceau le plus 'Blur' du répertoire de Superfood.
Me sens tout perdu derrière ces piliers, je ne vois pas mes copains, Ryan ( sale petit guitariste, by the way) , où tu te caches?
Question: qui parmi vous a un boulot?
Nobody, c'est sans doute la raison pour laquelle vous pouvez vous permettre de sortir un mardi... this is 'Melting', une friandise au goût de fraise.
Ils enchaînent sur le titre clôturant l'album , 'Like a daisy'.
A effeuiller  en murmurant elle m'aime, un peu, beaucoup, passionnément, à la folie…pas du tout!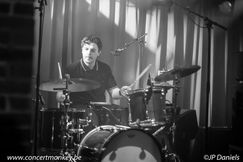 Quelques considération concernant le jardin botanique, non, rien à propos des gaufres,avant d'entamer 'Mood bomb' et son background psychédélique.
'Right on satellite' débute par une attrayante intro pour ensuite se mouvoir sur des pavés empruntés par la bande à Damon Albarn au début des nineties.
Reverb on the backing vocals, exciting groove confectionné par la rythmique,  lignes de guitare affûtées, et un chanteur charismatique, pas étonnant que Superfood est déjà suivi par une sérieuse armada de fans.
Un huitième titre, le digeste 'Superfood', au fumet Miles Kane, met fin à un set n'ayant duré que 35 '.
Enjoyable gig donné par un band qui s'il n'en est plus  à ses premiers balbutiements a encore un fameux chemin à parcourir, le potentiel est bien présent!
Dans quelques années, on pourra se vanter: j'ai assisté à leur premier show en Belgique au Witloof Bar.