Soirée Belge: The Experimental Tropic Blues Band presents The Belgians + The Spectors au Salon à Silly- le 18 avril 2015
Reports
About:
Soirée Belge: The Experimental Tropic Blues Band presents The Belgians + The Spectors au Salon à Silly- le 18 avril 2015
Artist:
The Belgians + The Spectors
Your Reporter on the Spot:
Concert en images: focale 2.8 ( notes: michel)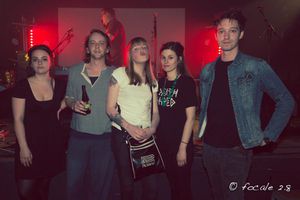 Concert en images: focale 2.8 ( notes: michel)
Dans le cadre de l'interclub tour ( een Waalse band et un groupe flamand) , le Salon accueille The Experimental Tropic Blues Band et The Spectors.
Le groupe de Bruges n'en finit plus de collectionner les éloges aussi bien dans la langue de Hugo Claus que dans celle de Simenon, et c'est mérité!
Marieke Hutsebaut/ Hannah Vandenbussche/ la frêle mais brutale Stefanie Mannaerts, Maxiem Charlier et Emiel Van Den Abbeele étaient à l'AB fin mars pour la release party de leur premier album, 'Light Stays Close', à Bruxelles, ils ont prouvé une nouvelle fois que le groupe maîtrisait parfaitement son sujet.
Leur indie mâtiné de shoegaze, de garage et de dream pop rappelle les Dum Dum Girls, Bleached ou les sixties girls bands, style Ronettes, leur single 'Nico' est vraiment un titre imparable.
C'était la fête au Salon, Silly had fun, The Spectors had fun, too!
Extraits de la playlist: Green-eyed monster - Flakey - Light Stays Close ( le titletrack) - Like Sand - Going down... - Nico - Drone...
Nouba qui s'est poursuivie avec
The Experimental Tropic Blues Band présentant leur projet The Belgians.
Dirty Coq - Boogie Snake - Devil D'inferno sont des crapules, des iconoclastes, des scélérats, rien ils ne respectent, rien!
La Belgique, c'est quoi?
Les frites, la Brabançonne, Philippe et Mathilde, Hergé, Manneken Pis, les gaufres, les chicons, Lange Jojo, Sandra Kim, un lion baisant un coq, la Cara Pils.... fort bien, ces nuisibles irrévérencieux se foutent de tout notre beau patrimoine!
Et musicalement?
Du boogie crasseux bourré de disto et de mayonnaise, du blues mosan, du garage infâme et une dose d'humour aussi intellectuel que les feintes conçues par Nabila.
Tu dis, Eric?
Sont drôles et couillus.
Oui, Iza?
Yeah Belgians like to grab their balls...
En public?
Bref, une soirée mémorable!