Paloma Faith + Jake Isaac - Ancienne Belgique - Bruxelles - le 18 février 2015
Reports
About:
Paloma Faith + Jake Isaac - Ancienne Belgique - Bruxelles - le 18 février 2015
Artist:
Paloma Faith + Jake Isaac
Your Reporter on the Spot:
Michel Preumont texte Michel Preumont photos
L'écriteau sold-out est à nouveau bien en vue à l'AB qui, ce soir,  accueille Paloma Faith.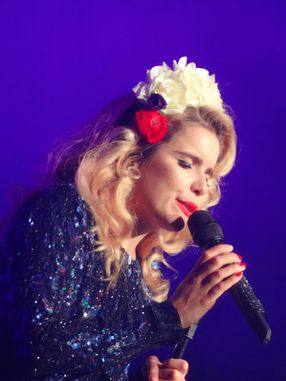 Le concert était prévu en décembre, il a fait salle pleine en février!
A 19:15 déjà plus moyen de s'installer frontstage!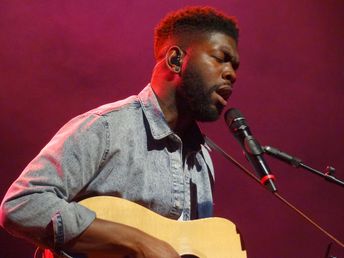 Support Jake Isaac!
Pas un inconnu dans le temple bruxellois, le Londonien  ayant assuré l'avant-programme de Lake Street Dive en mai dernier ( au Club).
Un extrait de la chronique de l'époque: "Bruxelles a tout de suite pigé que Jake n'est pas le premier crabe venu".
Impression s'étant confirmée ce soir.
Sur scène: un jeu de guitares acoustiques, un piano électrique, une grosse caisse, à 20:00, long tall Jake prend place derrière les touches, sourit et amorce de sa voix à la fois rauque et chaude une ballade annonçant une séparation..the man you loved is dead... please don't cry those tears..
Dès le premier titre le charismatique gaillard a réussi à obtenir le silence et l'attention du public.
A la guitare, le sec 'The Chaos', en plein morceau le jack fiche le camp, chaos il avait dit, pas de panique,  il refixe et reprend de plus belle, Bruxelles bat des mains.
Un nouvel EP doit voir le jour très bientôt, il est fier de nous annoncer qu'il sortira sur le label d'Elton John.
You know Bill Withers, 'Lean on me'?
Mais oui, Jake!
Même thème, mais un rythme plus soutenu, et de vagues échos Charlie Winston, voici 'Stronger', le malin introduit quelques mesures de Bob Marley ( Three little birds) dans sa composition, la jeunesse locale reprend en  choeur.
Il poursuit par un titre  mélancolique plus ancien à faire pleurer les anges,  ' Everytime we kissed, avec un nouvel emprunt 'I can't make you love me' de Bonnie Raitt, chantonné a capella.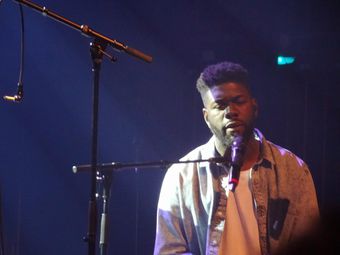 Next time I'll come back with a full band, promet-il avant d'achever son set par l'entraînant 'Long Road'.
Un gars sympa et décomplexé!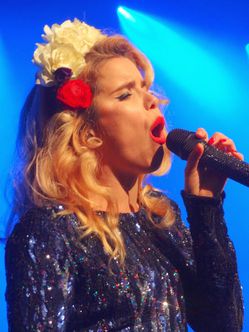 21:00, des serveurs stylés déposent mugs with hot tea  près des pieds de micro, encore quelques minutes de patience avant l'arrivée dePaloma Faith.
Il a fallu deux signaux lumineux pour que le gaillard derrière les platines ne pige qu'il pouvait mettre un terme à son occupation.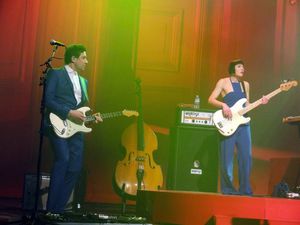 33 ans, des airs de gamine espiègle,  Paloma Faith Blomfield, rousse incendiaire et fougueuse, actrice, humoriste et chanteuse ( trois albums, le dernier 'A perfect contradiction'), une kyrielle d'awards,  est précédée par son formidable band.
Un décor Hollywood avec tapis rouge et escalier menant au drummer le plus haut perché, un costume identique pour tous les musiciens, une robe retro pour la vocaliste et une tenue scintillante pour l'étoile coiffée d'une tiare fleurie, Bruxelles va assister à un show extraordinaire.
Le band: Banks - musical director, programmer, guitar, synths/ Sam Lewis - guitar/ Andrea Goldsworthy - bass, double bass, electronics/ Peter Daley - piano, synths et  Gareth Brown - drums, pas la peine d'essayer d'en sortir un(e) du lot, ils sont tous exceptionnels.
Backing vocals, elle valait le déplacement à elle seule: Miss Baby Sol!
L'intro d'usage, les hurlements de joie, Pamela apparaît et attaque 'Mouth to mouth', du disco soul, un brin kitsch et bigrement énergique.
Tu l'aimes déjà cette femme-enfant.
Andrea à la basse, Gareth tabasse une cowbell, direction Motown avec le soul track sautillant  'Take me' .
Meuci bieaucoup, bonsware,  Brouselles, désolé poue mon miauvais frwansé , I must try to speak French, my boyfriend is French, chantez avec moi s'il vous plaît...
Elle est irrésistiblement désopilante, une bonne humeur généralisée s'est installée des pieds du podium aux balcons,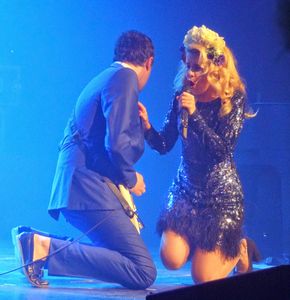 tandis que le band ébauche ' Stone cold sober' qui, en 2009, ouvrait le premier album de la diva.
Une première soul ballad sur fond 'I'd rather go blind', la reprise, impeccablement rendue, de '  The Bigger You Love (The Harder You Fall)' des Sisters Love.
Quelle incroyable voix noire, tu peux la classer aux côtés de Dusty Springfield ou Joss Stone.
Elle s'assied sur les marches et nous balance un second slow imparable, ' It's the not knowing', il serait injuste de passer sous silence les backings immaculés de Miss Baby Sol.
Chat time, avant trois titres de 'A perfect contradiction':   'Beauty Remains' -  'Leave While I'm Not Looking' - 'Love Only Leaves You Lonely'.
De la blue-eyed soul aux teintes sixties évidentes ( Lulu, Cilla Black, Petula Clark, Helen Shapiro...). Du drame, du pathos, une voix déchirante, les yeux cachés par ses paumes, elle implore à genoux, puis couchée, Sam et Banks  au dessus d'elle viennent faire pleurer leur guitare, elle revient à la vie pour achever son lament soul, applaudi à tout rompre en fin d'exercice.
Quelle fille!
Chat time bis... quoi,Albert,  un selfie, à nous deux, mais on est 2000, you think my French is hilarious, je continue en italien, voici 'Ready for the good life' et sa chorégraphie trépidante suivie par un second uptempo, ' Impossible heart'.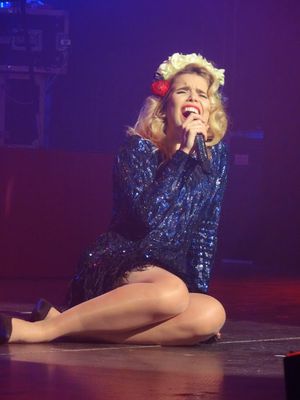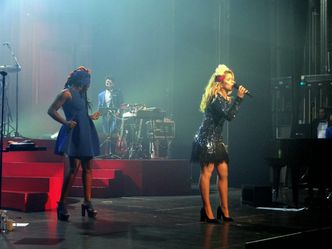 Gros hit, le majestueux  'Picking Up the Pieces' from second album, "Fall to Grace".
Paloma serre une dizaine de mains tendues puis interprète her first number one hit in the UK, le tournoyant  ' Changing' ,  co-written by TMS, Wayne Hector and Ella Eyre.
'Trouble with my baby' sera encore plus remuant, elle en profite pour se payer un petit tour off stage et tendre le micro vers les auditeurs, sur scène Peter Daley nous montre toute l'étendue de son talent.
Revenue sur le podium, pas calmée, blanca Paloma  grimpe sur le piano pour se trémousser comme une go go dancer  déchaînée.
Merci Belgioum, this is our last song,   'Only Love Can Hurt Like This', une ballade cinématique, belle à tuer!
75' de joie intense!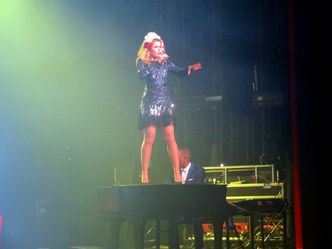 Encore.
Une nouvelle claque d'envergure, une reprise de 'River deep, mountain high' de Ike and Tina Turner.
Un grand numéro de  Miss Baby Sol, j'en pleure encore.
Le show prend fin avec le catchy funk  ' Can't rely on you'.
Bruxelles lui fait un triomphe, Miss Faith, en souriant, je suis une contradiction parfaite!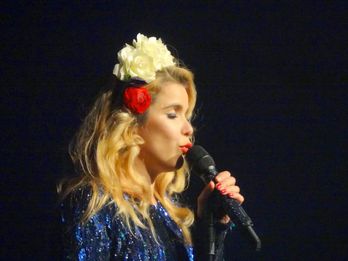 Chez toi, elle dit, ton visage est radieux, c'était bien?
Héhé, t'as répondu!