Fat White Family - The Voyeurs à la Rotonde du Botanique- Bruxelles, le 13 février 2015
Reports
About:
Fat White Family - The Voyeurs à la Rotonde du Botanique- Bruxelles, le 13 février 2015
Artist:
Fat White Family - The Voyeurs
Your Reporter on the Spot:
Concert en images: Claude Le Roux et Samuel Letecheur ( notes- michel)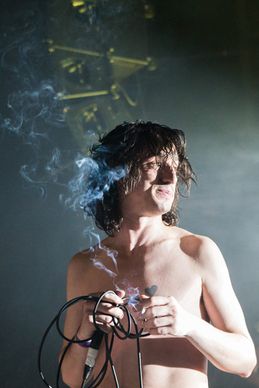 L'écriteau sold-out s'affiche à l'accueil!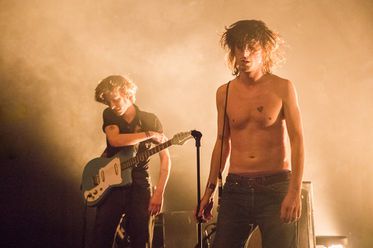 Après l'annulation de la tournée de la Fat White Familyl'année passée , les deux groupes remettent le couvert début 2015, leur trip commun passe donc par Bruxelles.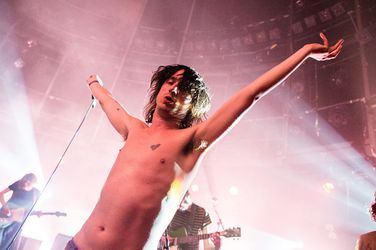 Brutti, sporchi e cattivi, non ce n'est pas le film d'Ettore Scola ou une pub pour Hara-Kiri, il s'agit de le description des six mignons garçons de la Fat White Family, et on a omis quelques qualificatifs significatifs, tels dépravés, fainéants, je-m'en-foutiste, teigneux et puants...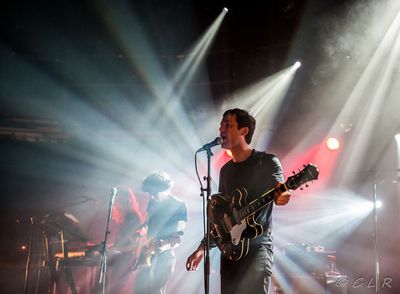 Support: The Voyeurs.
Non, il ne s'agit pas de Peeping Tom de Mike Patton, mais du nouveau nom choisi par Charlie Boyer and  The Voyeurs who shortened their name.
 The Voyeurs are: Charlie Boyer (vocals - guitar), Danny Stead (bass), Sam Davies (guitar), Samir Eskanda (drums) and  Ross Kristian (keys), d'après les fichiers de Scotland Yard.
Ces Londoniens pratiquent un rock nourri au biberon Television, Jonathan Richman, avec des effluves The Only Ones et même Syd Barrett pour le côté psychédélique.
Deux albums, 'Clarietta' et 'Rhubarb Rhubarb', la playlist fait la part belle au dernier.
Un faible pour 'Train to Minsk', le single.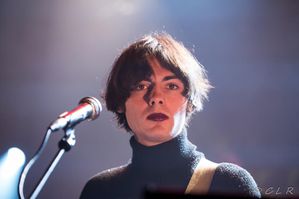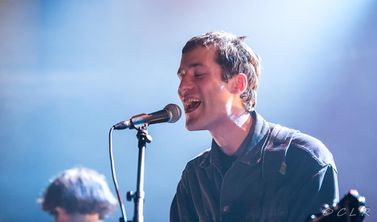 Fat White Family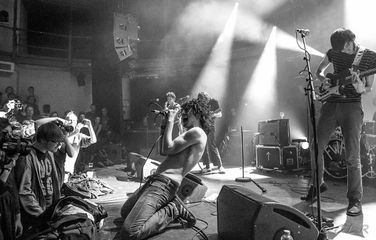 Lias Saudi (vocals), Saul Adamczewski (vocals/guitar), Adam J Harmer (guitar), Nathan Saudi (organ), Joseph Pancucci (bass)  -  Jack Everett (drums) ont débuté en 2011.
Un seul full album jusqu'ici, ' Champagne Holocaust'.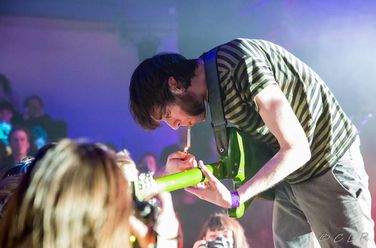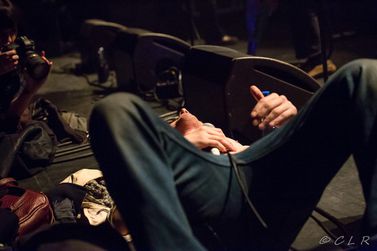 Un set, plein de sueur, de psychedelic blues rock  played loud, on nous avait promis du crasseux, de l'irrespectueux, de l'obscène, du vil, du sanglant... ok, mais aussi de l'artisanal et du brouillon.
Lias a gardé son T-shirt pendant un morceau, Saul a perdu quelques crocs sur un ring de province, ça ne sentait pas vraiment la rose dans la fosse, pas mal d'Anglais avaient fait le déplacement,  tout ce petit monde était loin d'être ravi quand le band a refusé les rappels.
Heureusement les gobelets du Bota sont moins coriaces que ceux de l'AB...
Une belle foire d'empoigne en tout cas!