Erja Lyytinen à La Grande Ourse, Saint-Agathon, le 29 septembre 2019
Reports
About:
Erja Lyytinen à La Grande Ourse, Saint-Agathon, le 29 septembre 2019
Your Reporter on the Spot:
Preumont Michel - texte/photos
Erja Lyytinen à La Grande Ourse, Saint-Agathon, le 29 septembre 2019
Le premier concert de la saison à La Grande Ourse ne démarre pas  sous les meilleurs auspices, un fâcheux contretemps advient sur la route menant Erja Lyytinen,  et le crew,  vers Saint-Agathon, un pneu du van éclate à hauteur d'Avranches, il leur reste +/- 170 km à parcourir.
A 17h, le groupe n'a toujours pas accosté, le concert est prévu à 17:30'.
Erja?
While driving on the motorway, the tire exploded. Luckily the car didn't go off the road and we got to pull the car on the side. Phew!!
L'organisation dépêche un van taxi, le public, patient,  est prévenu, le concert aura bien lieu, il débutera avec un certain retard.
 A l'ouverture des portes de la salle, Melrose informe ceux qui n'avaient pas suivi et annonce, par la même occasion, que la tournée de Strange Kind of Women étant annulée, Fuzz Top, un tribute de ZZ Top, sera à l'affiche le 19 octobre.
A 18h, les rideaux s'agitent, Erja Lyytinen and band vont entamer leur set face à une bonne chambrée.
Ce sont des pros en Finlande, le soundcheck a été réduit au strict minimum et, finalement ,le délai d'attente aura été des plus raisonnables.
Tu crois qu'Erja, troublée, va effectuer un boulot de fonctionnaire mauvais coucheur, t'as tout faut, pendant 80' un sourire rayonnant ne quittera pas le visage  de la charismatique et séduisante madame, Best Guitarist 2017 lors des  European Blues Awards, reine de la slide, louée par les plus grands, Santana,  Sonny Landreth ou Joe Bonamassa.
Lors d'une interview elle glisse au journaliste... performing is like running a little marathon, very empowering but also consuming... on confirme, difficile de trouver un entertainer plus énergique que celle qui a déjà une dizaine d'albums à son actif.
Pour cette première tournée française, la playlist est axée sur le dernier né 'Another World'.
Flanquée d'une équipe soudée et performante, Kasperi Kallio: keyboards/ Hammond, Tatu Back: bass et Iiro Laitinen: drums, elle décide d'entamer le gig par ' Lover's novels' , un bluesrock incisif , a fast shuffle avoue-t-elle, extrait de 'Stolen Hearts' de 2017.
Un premier exercice solitaire furieux est suivi par un solo de claviers juteux.
Une entrée en matière brûlante ayant conquis les plus sceptiques.
Un abrégé en français pour présenter le band et narrer, sommairement ,les mésaventures du trajet, une question parlementaire...I hope you're ready for some funk blues... avant d'envoyer ' Black Ocean' , chanté à la manière de Bonnie Raitt, avec les tripes.
La plage fait plus de sept minutes, Erja nous gratifie d'une envolée lyrique à tomber par terre, ta voisine, paupières closes, de ses petits doigts singent les accords de la belle finlandaise. 
You know last year was amazing, j'ai eu l'honneur d'assurer le support de la tournée de Carlos Santana, il m'a inspiré le tourmenté  ' Hard as stone'  aux senteurs latines.
Oui, oui, Erja, on va bien, merci...
Après s'être enquis de notre santé elle attaque 'Everything is fine' un titre datant de 2008,  dans lequel elle insère ' Summertime'.
On assiste à une démonstration, prouvant que les lauriers acquis en 2017 ne sont pas usurpés.
La classe!
Dites donc, Saint-Agathon, vous êtes-vous déjà procurés ' Another World'?
Toi, Yvan, t'es le seul, shit, je compte en écouler une vingtaine après le show, this is the titletrack , pour lequel je vous emmène au pays des rennes.
'Another world' lorgne du côté du  progrock , les claviers l'attestent. 
Une amorce agressive annonce le retour vers un blues rock musclé, ' Snake in the grass', qui ouvre le plus récent album, est du genre venimeux.
Petit temps mort, un mot aux musiciens,avant d'embrayer sur un morceau acrobatique faisant appel à l'artillerie lourde, les reliques de l'église en tremblent encore.
Comme il n'y avait pas de setlist, on hésite, au UK, elle a joué  'Cherry Overdrive'.
Let's slow things down with 'Slowly burning' , le slow blues de la soirée abordant le thème de la fin d'une relation.
Les chandelles chancèlent, la maison construite together va perdre un locataire, too bad!
Des jeunes mariés dans la salle?
Euh, il y a un divorcé récent, why?
La suivante a été baptisée ' Wedding day' , la slide déménage, la speed bride se paye un voyage nuptial dans la salle, en profite pour placer ' La vie en rose' dans sa digression, puis regagne le podium pour passer la wedding gown en nous montrant qu'elle aurait pu être engagée au Crazy Horse.
Quelle nana!
Le set prend fin avec 'Rocking Chair', précédé d'une mini-leçon de finlandais.
 See you at the merch... 
Et le rappel?
Get on board, everybody, laissez les bagages sur le quai, on vous joue 'People get ready' de Curtis Mayfield and The Impressions.
Le 3 octobre à Wattrelos!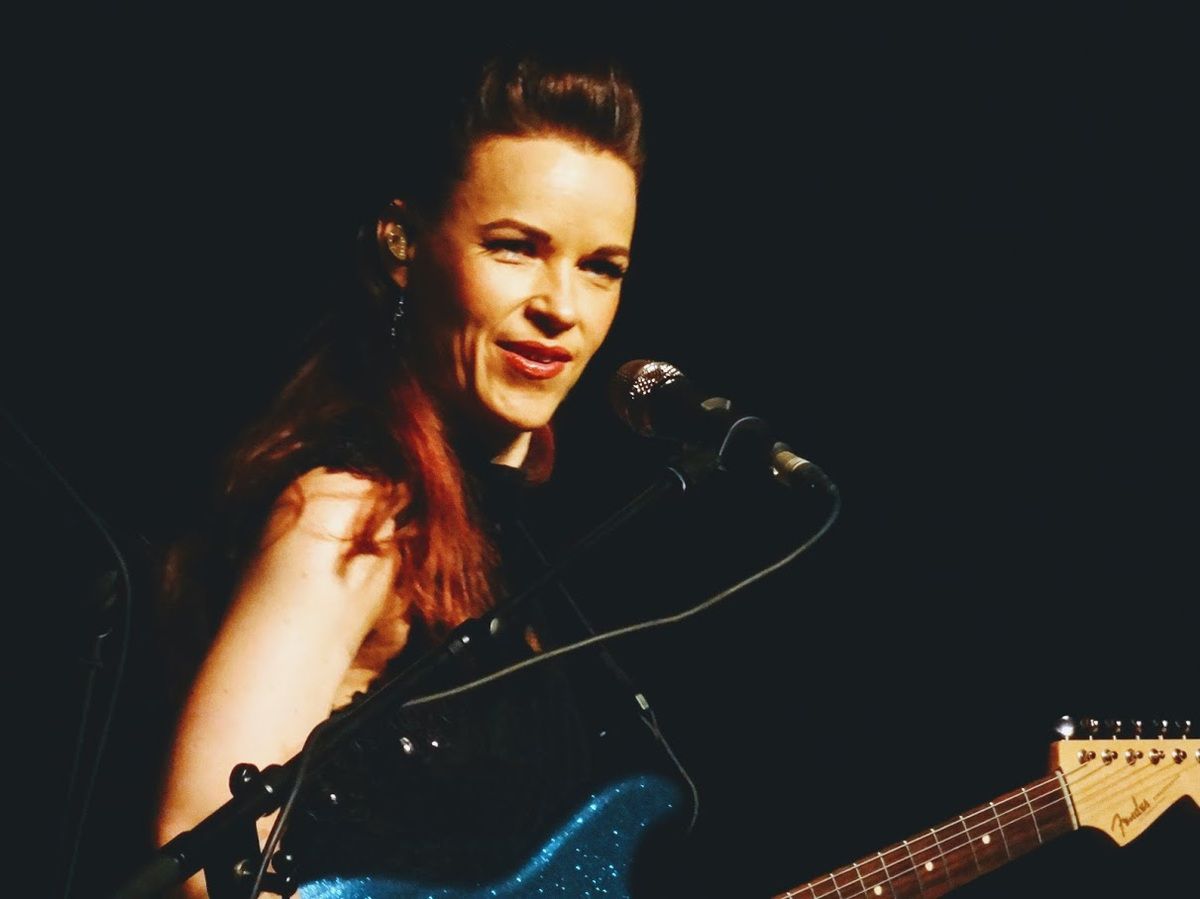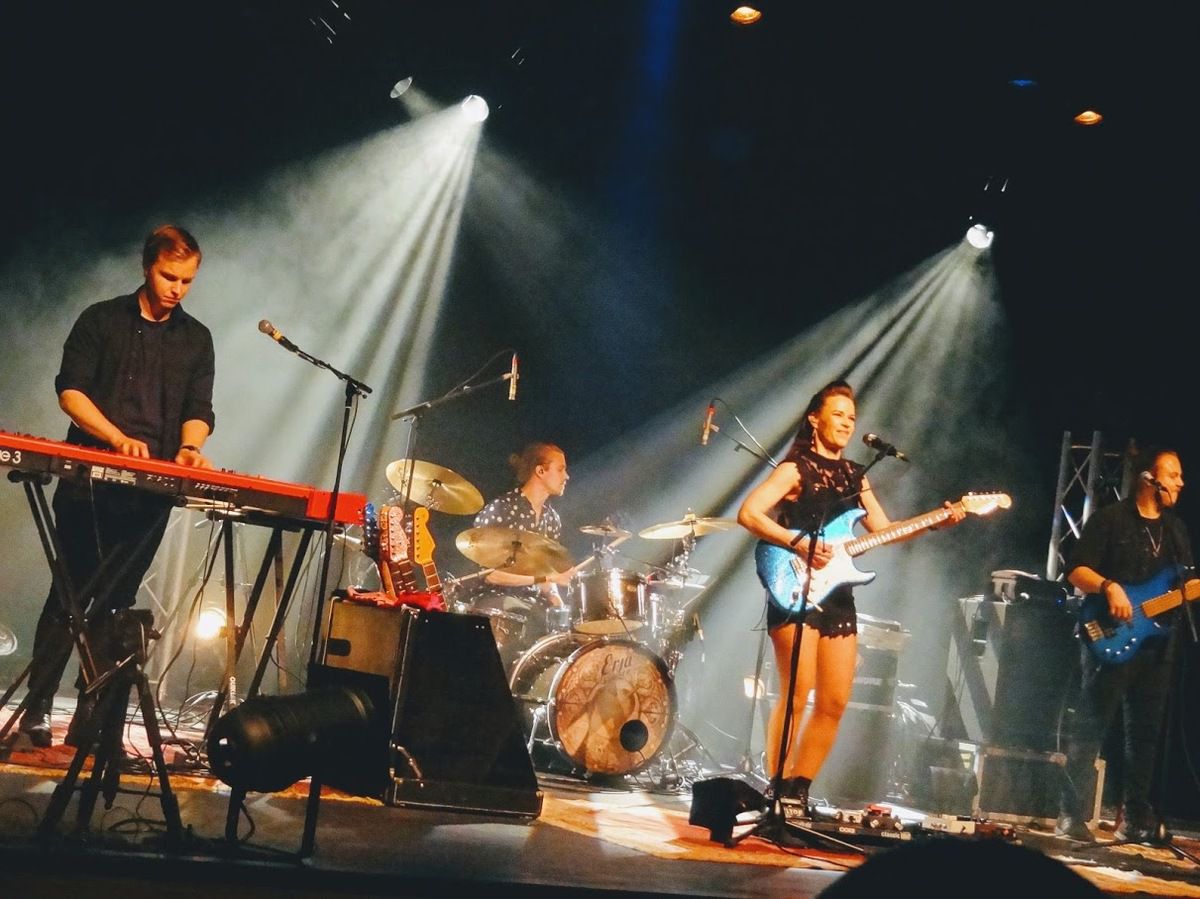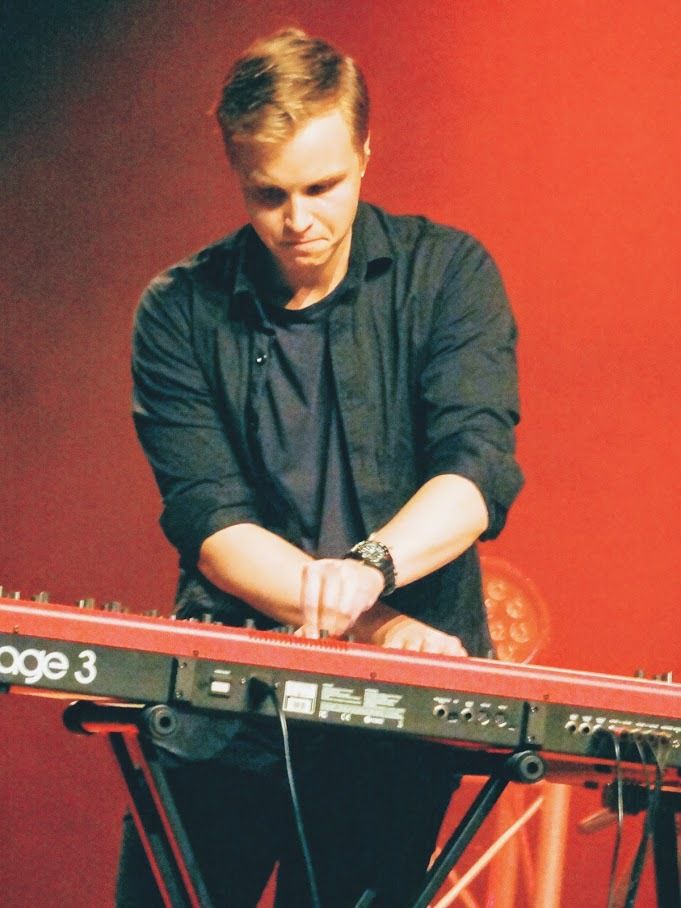 Un clip filmé à La Grande Ourse