George Thorogood And The Destroyers komen naar Blues Peer op zaterdag 18 juli 2020
News
About:
George Thorogood And The Destroyers komen naar Blues Peer op zaterdag 18 juli 2020
Artist:
George Thorogood And The Destroyers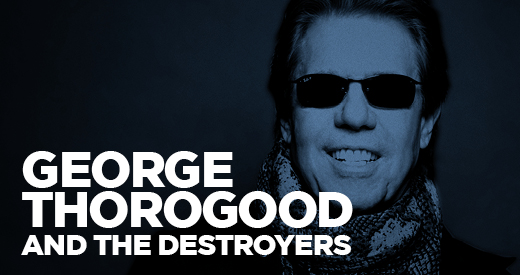 GEORGE THOROGOOD
and The Destroyers USA
George Thorogood [USA] komt naar Peer! De legendarische en onverschrokken Amerikaanse bluesman staat al vijfenveertig jaar op de planken maar is nog steeds zo dartel als een jonge hond.
De uit Delaware afkomstige Thorogood is niets minder dan een levende legende. Sinds 1975 verkocht hij vijftien miljoen albums en speelde meer dan 8000 keer live. Met zestien studio-albums waaronder 'Bad to the Bone' (1982), 'Born to Be Bad' (1988) en 'Ride 'Til I Die' (2003) brengt hij onversneden rock 'n roll, heet genoeg om de poolkappen te doen smelten. Zijn 'Greatest Hits: 30 Years of Rock' prijkte maar liefst zestig weken in de bluescharts.
"We'll always be the baddest band in the land. Expect our best on this tour, because that's what you're gonna get!" aldus George Thorogood. U bent gewaarschuwd.
George Thorogood en zijn onafscheidelijke Destroyers landen met hun "Good To Be Bad Tour: 45 Years Of Rock", op zaterdag 18 juli op Blues Peer.
Doe je voordeel tijdens de Early Bird-actie! Combi weekend- en Blues tickets (eten, drinken & merchandise) zijn hier nog steeds aan een verlaagd tarief beschikbaar.
See you at Blues Peer!