Modern Sound Korea : 4th Korean Music Festival comes back!
Agenda
Artist:
Modern Sound Korea : 4th Korean Music Festival comes back!
Modern Sound Korea : 4th Korean Music Festival comes back!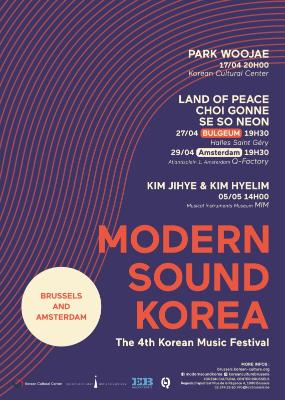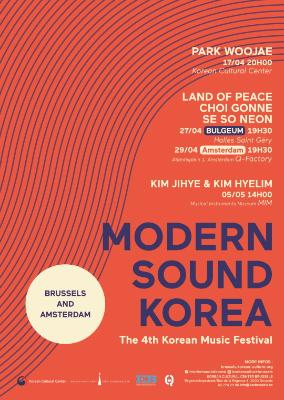 Modern Sound Korea, the Korean music festival organized by the Korean Cultural Center in Brussels, comes back with its 4th edition. 
From 17/04/2018 to 05/05/2018, Modern Sound Korea introduces a variety of musicians who are all devoting themselves to innovation and experimentation in the independent or modern/contemporary Korean music scenes. 
"Bulgeum (27/04/2018)", a Friday night event to chill-out with several performances, together with Korean street-foods, also makes it come-back.
The 4th Korean music festival is held not only in Brussels, Belgium but also in Amsterdam, Netherlands in collaboration with Halles Saint-Géry and Q-Factory. Modern Sound Korea will be a communication platform for both musicians and public; while the musicians showcase their works to the European audience, people can discover fresh music that can be resonated even after the festival.
Full line-up & Schedule
Park Woojae
17/04/18 Wed, 20:00, Korean Cultural Center in Brussels
Land of Peace / Choi Gonne / Se So Neon
27/04/18 Fri 'BULGEUM', 19:30, Halles Saint-Géry
29/04/18 Sun, 19:30, Q-Factory, Amsterdam
Kim Jihye & Kim Hyelim
05/05/18 Sat, 14:00, MIM Musical Instruments Museum
Ticket/ Reservation
17/04/18 Park Woojae @ Korean Cultural Center &
05/05/18 Kim jihye x Kim hyelim @ MIM Musical Instruments Museum:
02 274 29 80, info@kccbrussels.be
29/04/18 Land of Peace, Choi Gonne & Se So Neon @ Q-Factory Amsterdam:
https://www.ticketmaster.nl/event/218707?brand=nl_qfactory
※ Free entrance for 27/04/18 'Bulgeum' at Halles Saint-Géry
※ *No-show without notice will result in restrictions for your next reservation.
Park Woojae 박우재: Adventurous Musician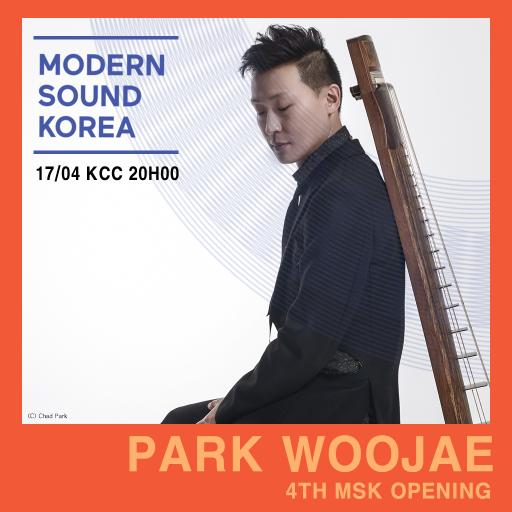 Park Woojae is a geomungo artist, composer and music director. He has developed his unique stroke/bow techniques so that he can broaden the boundaries of Korean traditional music. He released his first solo album <Extension> in 2014 and received applause from both public and critics. Park has collaborated with renowned choreographers and continuously worked with Sidi Larbi Cherkaoui. Park was a musical director for <Harbor Me (2015)>, and met the audience not only as a composer but also as a performer in <Fractus V(2016)> of Sidi Larbi Cherkaoui. Now he is looking forward to presenting himself as a solo musician at Modern Sound Korea.
Land of Peace 랜드 오브 피스: Korean response to 90s Brit rock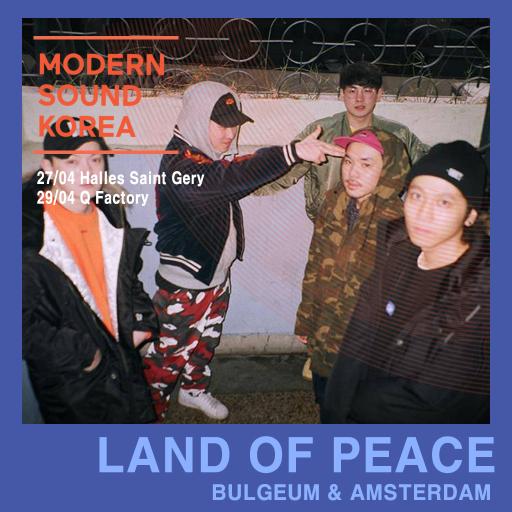 Land of Peace (LOP) is a new figure in the Korean indie-band scene, having released its first EP in 2017. The members prefer easy-listening sounds for a relaxed break. The landscape that they want to draw with sounds is a tropical seashore with a summer breeze and sunshine. Being influenced by British rock from the 90s, they produce music that can be easily comprehended. Their straightforward melodies emphasize LOP's freshness. It is the first time for the band to perform in Europe.
Gonne Choi 최고은:  Versatile singer and guitarist
Choi Gonne is a representative singer/guitarist/songwriter of the Korean independent stage. She presents songs filled with enchanting melodies of ambivalence; they are not only mysterious but familiar, traditional but modern, abundant but modest. The liberal music style of Gonne Choi allows the listener to feel as if he/she were transported to unknown places. After having learned how to play the Korean instrument 'gayageum' and sing 'Pansori', Choi once performed as a rock vocalist. With her wide musical spectrum, she crosses the boundaries of different genres like rock, folk and jazz.
Se So Neon 새소년 : Hottest new band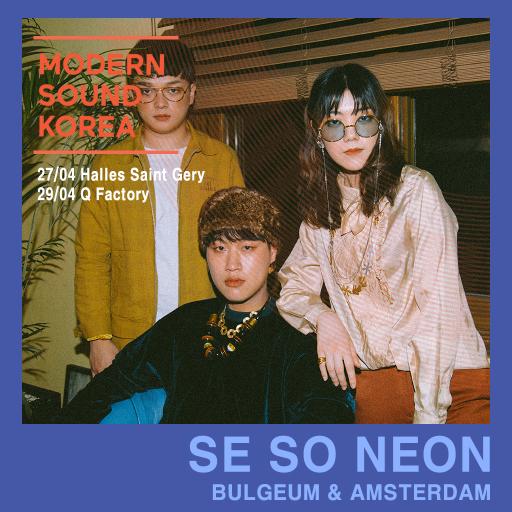 Se So Neon must be one of the most recognizable rising stars in the Korean indie-scene. This band, consisting of three members, easily reminds the public of HYUK OH, the winner of the Grand Prize at the Korean Music Awards. BGBG record, the agency of HYUK OH, also signed a contract with this young band in 2017, in anticipation of the emergence of the 'Next HYUK OH'. The three members have developed their identity through lo-fi and vintage sounds, covering a wide range of genres such as jazz, blues, psychedelic rock and synth pop. They released their debut single "A Long Dream" in June 2017, quickly followed by the 6-song EP "Summer Plumage" in October. Se So Neon took its name from an old Korean children's magazine. 'Se' stands for both 'new' and 'bird', while 'So Neon' stands for 'boy'. With Modern Sound Korea, the band makes its first appearance in the European region.
Kim Jihye & Kim Hyelim : Crossover music rooted in heritage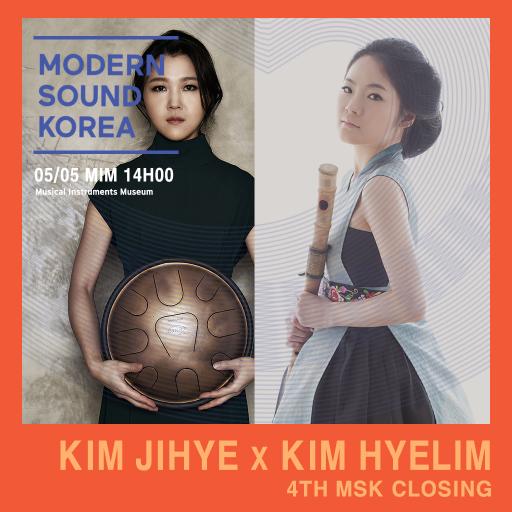 Kim Jihye and Kim Hyelim, both based in London, are cross-over musicians respectively working with Korean traditional percussions and flute (daegeum). Kim Jihye, a percussion player and performance artist, tends to present a stage consisting of various sources such as installations and visual arts.  Kim Hyelim, a composer and Daegum player, also produces crossover pieces. She is not only a part of 'Notes Inégales', a contemporary music ensemble, but also a leading member of 'Shilla Ensemble', a music/ dance group. 
These two musicians form a duo for this year's Modern Sound Korea, and present their works that are rooted in Korean heritage. The duo will perform at MIM, the Musical Instruments Museum in Brussels, welcoming everyone who is interested in the sounds of unfamiliar instruments.
Modern Sound Korea 2018 news is continuously updated on facebook: facebook.com/modernsoundkorea
- See more at: http://brussels.korean-culture.org/fr/522/board/256/read/89427?mc_cid=1f...